Become a Monthly Bird Sponsor Today!
We need your financial support to help us provide the absolute best in care for the 1000+ parrots that reside at our Aviary & Adoption Center in accordance with the mission and purpose and best practices Standards of Care of The Gabriel Foundation. In order for us to continue to help parrots well into the future, it is critical that we receive your financial support now. When you sponsor a bird, you help TGF provide for the short and long-term needs of our flock, including:
Daily hands-on care & interaction, bird-to-bird social interaction, frequent bathing and attention to special-needs birds, highly skilled aviary technicians and 24/7 on-site personnel
Nutritious, well balanced diets that include fresh greens, vegetables, fruit, legumes, grains, nuts, seeds, Lafeber's Nutriberries, and Harrison's Bird Diets
Indoor & Outdoor habitats with enriched environments, foraging opportunities and frequent bath days
Medical services and quality supportive care provided by veterinarians with a special interest in avian medicine and TGF's staff CVT's & AHT
Whether you underwrite a day, week, month or year's support for any bird under our wing, please consider the cost of care; your support truly makes a difference in their lives. All sponsorships are fully tax deductible. TGF's cost of care by species types:
1 Finch or Canary – $20/month or $240/year
1 Small Bird – Budgie, Lovebird, Cockatiel – $30/month or $360/year
1 Conure, small Lorikeet or Quaker – $45/month or $540/year
1 Dwarf Macaw, Sm. Amazon, Pionus, Asiatic parrot, Poicephalus, or Lory – $60/month or $720/year
1 Amazon, Sm. or Med. Cockatoo, Eclectus, African Grey parrot, or Sm. Macaw – $75/month or $900/year
1 Lg. Macaw, X Lg. Amazon, Lg. Umbrella or Moluccan Cockatoo – $120/month or $1440/year
Full monthly bird sponsors will receive a magnet with a photo of your "Celebirdy" that you can proudly display. If you would like to sponsor a bird but don't have the means to do it yourself, you can raise funds for that bird by starting your very own online fundraising page through firstgiving.com. Firstgiving will walk you through the process of personalizing your page and then you can send it out to friends, family, colleagues – anyone you can think of to help you raise money for a parrot in need. It's so easy, just click here to get started!
---
Ashley – Umbrella Cockatoo
Ashley came to TGF on February 3, 2010 with an all too familiar story. Right on the heels of our intake of the Pueblo Rescue Flock from the Pueblo Community Animal Shelter, we received an email from them asking if we could make room for just one more bird. Ashley's owner said she'd had the bird for over 30 years, and it had become far too aggressive for her to handle any more. When she relinquished it to intake staff HSPPR, it was for euthanasia. She was done with this bird. Once staff at the shelter learned that this cockatoo was scheduled to be put to sleep, they immediately contacted the owner to ask if it could be transferred to us instead, and she agreed. So, Ashley has entered a new phase of life – one designed to help him feel, look, and behave better! No information about Ashley's history or care was provided when he was surrendered except that the owner fed him baby food. We'll learn more about him as we get to know him. Right now his feathers are very ratty, unkempt, and dirty. He most likely hasn't had a bath in years. But, this trooper has ALL of his feathers intact, shows no signs of self mutilation and is already responding with eagerness to his new home.
---
Ricky Roo – Moluccan Cockatoo
"Ricky, Ricky Roo!" That's what you'll hear when you meet Ricky Roo, a Moluccan Cockatoo at The Gabriel Foundation Education and Adoption Center in Elizabeth, Colorado. Ricky Roo is approximately 16 years of age, self-mutilates, and as such, is a parrot with special needs. He wears a device which keeps him safe. His previous owner said that Ricky Roo enjoyed spending time outside in a tree in the yard. Here at TGF, Ricky Roo spends nice days outside with other cockatoos in the flight cages. He loves to work construction and is a great helper; he will bring you a screwdriver and many other tools.
---
Toltec – Greenwing Macaw
Toltec is a magnificent male Greenwing Macaw, approximately 30 years old with loads of personality. Toltec has been at TGF for four years, and was in a home with multiple parrots prior to relinquishment. He is very independent, an excellent communicator, and lets you know that he has strong likes and dislikes. When he wants a treat he just tells you, "Walnut." Toltec also has an affinity for Rod Stewart's, "Maggie Mae" and will dance when the music comes on. He is a special needs parrot, and would be best with an experienced bird owner who would commit to keeping just one bird.
---
Chloe – Moluccan Cockatoo
Meet Chloe, the princess in pink! She is wearing one of Patti Lemaire's PPP cone collars that she made and donated especially for Chloe. Look how pretty she is in her new outfit…reminds me of a ballerina. Chloe has a long history of feather plucking and self-mutilation, and she was relinquished to us for that very reason. She has some special needs due to severe arthritis in her legs and has some balance problems as a result. Her cage has perch accommodations to make it easier for her to balance and move around. Her health issues haven't affected her personality though, because she is as sweet as ever! Chloe is one of our avian hostesses in the lobby of the Aviary and Adoption Center in Elizabeth and we think she treats every visitor like they've come to see just her.
---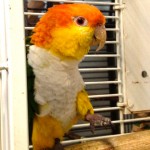 Joe – White Bellied Caique
Joe is currently in treatment for an upper respiratory infection, most likely in the sinus area. He's currently on medication to help him recover from this chronic condition. Joe also has stress-related seizures and we exercise extreme care and caution any time that Joe requires handling. Joe was hatched in Mississippi, by a renown and highly respected bird breeder and aviculturist. He had a great start in life. But, he ended up in a situation that resulted in chronic health problems for him. His purchaser had acquired many birds, and was a local CO bird breeder. When Joe came to TGF, it was with 110 other parrots of many species due to legal intervention and a court ruling that removed all but 35 parrots from their former owner. All of the others were formerly transferred to TGF. Two other caiques were included with this group: Nancy and Zeppo. Nancy's been adopted and is thriving. Zeppo hasn't found the right family to adopt him, YET. Joe enjoys his time outside, being around his familiar avian friends, and has the care and attention of our staff. We aren't sure that Joe will able to be adopted due to his special needs and seizure disorder. You can watch a video of Joe here.
---
Ester and Eden – Umbrella Cockatoos
Both birds came to TGF in March 2012 from a rescue group in NM. Both are wild caught which means that they were imported into the US prior to 1992. Their bands (visible in the photos) are called open bands are used to identify birds that entered the US through USDA quarantine stations. Umbrella cockatoos are native to Indonesia and live in heavy jungle habitat. Eden came into the rescue in 2009 from a private transfer of 11 handicapped birds that were supposedly removed from a hoarder outside of CO Springs. No cruelty/neglect/abuse charges were filed against that owner. How Eden came into his care is unknown. His injuries are old; most likely incurred during importation, possibly during quarantine and when he was set up in a breeding aviary. Failure of former owners to provide appropriate and emergency veterinary care is the definitive reason why his is so disabled. As a result, he has significant joint arthritis and has limited mobility to move around. Esther came into the NM rescue about a year ago from an equally deplorable hoarding case in TN that involved cruelty charges and eventual seizure by law enforcement and a group called Animal Rescue Corps. Her feet, leg and wing wounds are healed old injuries. Her broken bones fused causing her leg to stick out at a right angle, and her severed toes affect her balance. Most likely she was used as a breeding hen, and some of the injuries were mate inflicted. This is extremely common with cockatoos, and often results in the females death. This can happen even with pairs that have been housed together for years. The problem is really human created. Its a result of overcrowding, no safety escape for the females, and cages or other housing far too small for the birds safety and health. The NM rescue decided to house Eden and Esther together because the birds appeared to like each other, and began courting behaviors. But with limited mobility and difficulty moving around a cage not tailored for their handicaps, the environment was ripe for a disaster. That happened in January 2012 when Esther's beak and face were severely injured by Eden. She was immune-compromised from years of neglect in TN, and the wound inflicted by Eden overwhelmed her ability to heal. The growth plate of the upper mandible was severely damaged, and the injury worsened and the wound eroded into her sinus. The birds required more care than the rescue could or would provide and they were determined to be unadoptable to their extreme disabilities. When asked to accept them, it was critical for us to assess Eden and Esther's quality of life. Would a sanctuary life be humane? What could we do to insure their safety? How would we evaluate their pain levels, arrange their cages for mobility, and provide for their physical and mental stimulation? Our decision to accept them into care was because we believed that we could improve their quality of life. Help us continue to help birds like them by sponsoring Eden or Ester on a monthly basis.
---
Deanie – Umbrella Cockatoo
Deanie is a 20-something male. His original owner was sentenced to prison and he was then passed on to a heavy smoker. He came to us with severe Vitamin A deficiency, feather destructive behavior and was quite the unrelenting screamer. Over the last 2 years he has improved greatly overall. He has learned to play with his toys and eat good food and has other cockatoo friends. He was very poorly socialized and can have rapid changes in behavior which can make his behavior unpredictable for most.
---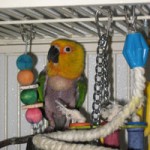 Sonny – Jenday Conure
Sonny was transferred to us from another animal shelter after animal control took the bird from the owner. Unfortunately, we do not have much history on on him. With his feather destructive issues, he will need special care.
---
Fuze – Peach-faced Lovebird
Fuze is a funny little lovebird who was transferred to TGF from an animal shelter. He has a lengthy history of self-mutilation and has to wear a bubble collar all the time, but he has adapted beautifully. He is active and playful and has several friends he lives with in his flock who accept him for who he is!
---
Coco – Greenwing Macaw
Coco came to us from neglectful situation. His beak had overgrown so badly that he couldn't open it. After many months of intensive care and work by our excellent veterinary team, his beak now looks normal and he is thriving at the aviary.
---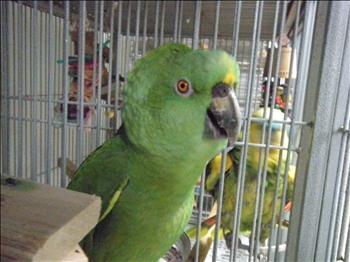 Aileron – Yellow Naped Amazon
Aileron is a 42 year old Yellow Naped amazon that has been with us a number of years. He was named after a part of an airplane – how appropriate as he can still fly with the best of the flock! While Aileron is adoptable, because of his age and more challenging personality it has been difficult to find him the right home. In the meantime, this handsome guy could use a sponsor to help support his care at the aviary.
---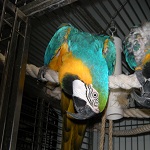 Echo – Blue and Gold Macaw
Echo is a Blue and Gold macaw that has been at TGF since 1999. He is an energetic 19-yr old that enjoys attention and his toys.
---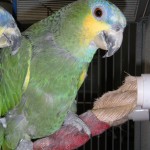 Dos Patas – Orange Wing Amazon
Dos Patas just lost his bonded friend, Bandito, in April 2013. They came out of a bad situation together, and have been at TGF since 2006.
---

Sequoia – Nanday Conure
I'm Sequoia, a resilient 17 year old nanday conure. Even a cactus would be thirsty after all I've been through. I'm looking for a "long drink of water," just someone who will accept me for who I am!
---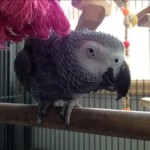 Woody aka Willa – Congo African Grey
I'm Woodie aka Willa a slightly confused Congo African Grey. When you go by Woodie or Willa you're bound to get into some scrapes, I'm looking for someone who understands.
---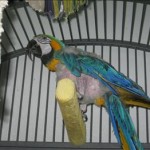 Chipper – Blue and Gold Macaw
I'm Chipper a 33 year old blue and gold macaw, and all I can tell you is "my name says it all"! I've survived a broken heart from unrequited love. I came to TGF in 2008 for a better life, and found others who understand me, want in on the action?
---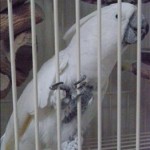 Joey – Umbrella Cockatoo
My name is Joey and I am an ACTIVE 30 year old umbrella cockatoo, I've been in and out of TGF cause I am irresistible, but ignore me and I'll show you how LIVELY I can be! Talk a walk on the wild side with a cool cockatoo!
---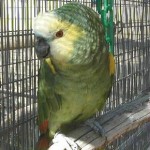 Wilbur – Blue Fronted Amazon
I'm Wilbur, a 34 year old Blue Fronted Amazon. I'm bonded to Cocoa and we've been at TGF since 2008, but when you are as gorgeous as me you just have to do the world a favor, so I'm expanding my harem.
---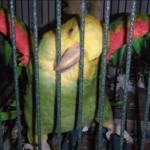 Juanita – Double Yellow Headed Amazon
Call me Juanita! I'm 32 years young and GORGEOUS, I love humans but you know, I heard about this guy named Wilbur who is expanding his harem. What an ego, HE doesn't even know what GORGEOUS means, until he meets me that is!
---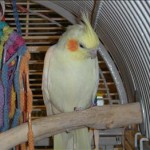 Birdie – Lutino Cockatiel
Hi! I'm Birdie, and I'm a "rare bird" indeed, an albino cockatiel. I like being with people, but my people had to give me up because they became allergic. I've been at TGF since 2012 and I'm ready for a new home and I never again want to hear "Bye Bye Birdie"!
---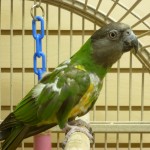 Amadeus – Poicephalus Senegal
My name is Amedeus, just like the composer, I'm a Poicephalus Senegal. Anyone can tell you what an unusual and beautiful bird I am. I was rescued in 2012, from a less than harmonic situation and now I am looking for someone who will make music with me now that I have something to sing about!
---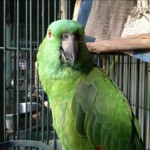 Boy Boy aka Bernardo – Yellow Naped Amazon
I'm Boy Boy, a sexy 29 year old yellow naped amazon. I think I'm a little old to be called "Boy Boy" so now I go by "Bernard", but I'm no saint. I'm looking for a companion to spend the rest of my days, because golly I'm worth it.
---
Dozer – Umbrella Cockatoo
Dozer is lucky to be an "out of jail bird". This handsome guy came to TGF along with two other cockatoos, transferred from another CO shelter when the owner went to jail. He's in beautiful feather, his big dark eyes grab your attention, and his personality and antics bring smiles to many. Dozer is generally comfortable with people and likes to keep himself busy foraging and being an amateur carpenter with plenty of wood to churn into toothpicks.
---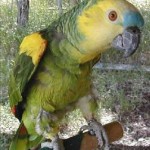 Biff – Blue Fronted Amazon
They named me Biff and I'm a blue fronted amazon. My name means "hit" so it's no wonder I have quite the reputation for "hitting on" the chicks in my flight. They think I may be wild caught, but I prefer to think as WILD. I was a cover bird for the Amazona Society.
---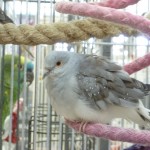 Hardy – Diamond Dove
My name is Hardy and I am one half of the Laurel and Hardy team. We came to TGF in August of 2012. Come see us and share some laughs. (Laurel is arrogant because of being selected for Pet of the Week, but no one knows what gender Laurel is, so who's laughing now).
---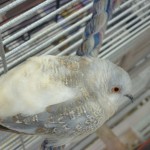 Laurel – Diamond Dove
Hi, I'm Laurel, and I was once Pet of the Week. I'm not sure of my gender so the name Laurel fits me just fine, I'm with Hardy (who incidentally weighs in 6 oz heavier than I do, and at our size, that's A LOT) but sometimes he's not as funny as he thinks, I'm looking for someone who understands MY sense of humor.
---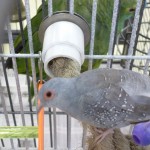 Biddle – Diamond Dove
Well, my name is Biddle and I'm stuck in the middle, not knowing if I'm a girl or a boy. But if you ask me a riddle, I may not know diddle but I'll try cause I wanna be your joy.
---