Macaw Respiratory Hypersensitivity
During the nearly 20 years that TGF has housed birds, there have been times when some macaws and cockatoos have been housed in close proximity or next to each other. We have had two incidents of macaw asthma in the last few years, and only one was due to powder down allergies. We made accommodations to the bird's location.
Air cleanliness in the birds' previous environment, how often the birds were bathed, the birds' ages, the possibility of underlying health conditions and the birds' immune health are all factors to be considered – and with that information one cannot always know that macaw hypersensitivity is ruled out.
Respiratory Hypersensitivity is most commonly reported in Blue & Gold macaws, but not all macaws are allergic. The airborne particulates of heavy powder down birds such as Grey parrots, budgerigars and cockatiels may also contribute to symptoms and disease. We know that acute death can occur with some birds. We have also learned that there can be several other factors that may contribute to a bird's respiratory disease.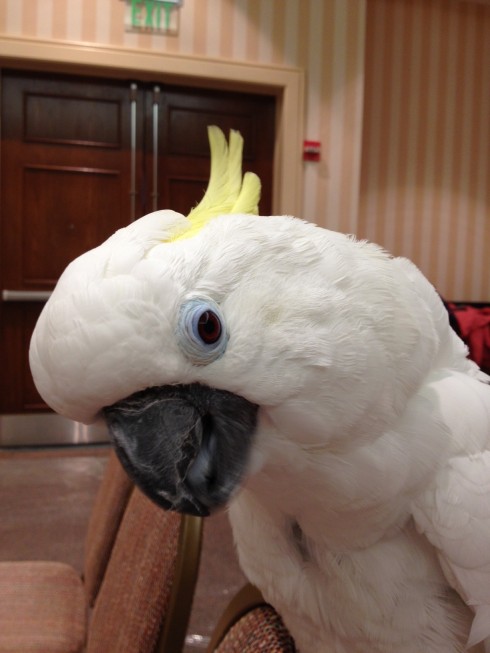 No matter what bird species live near or with others, there are certain practices that can minimize risk: a thorough wellness exam for every bird in the household, healthy air for humans and birds, surfaces that are easy to keep clean and maintain, cage lined with newspaper, Kraft paper, butcher paper or even paper towel – and say "no" to bedding that is made of corn cob, walnut shell, wood shavings, paper bedding, or absorbent pellets. Keep good air exchange in the room that houses the bird. Add the best Hepa filter that you can find – stay away from Ionizers; humidity is important, but beware of mold and other fungi that can grow in a too-moist environment. Keep your bird bathed and provide it plenty of opportunity to preen and groom itself. The bird's diet and nutrition, physical and mental health are building blocks to a strong immune system. Time spent outdoors with the opportunity for natural light and Vitamin D can help to maintain a bird's respiratory system.
The links below provide additional information about Macaw Respiratory Hypersensitivity:
It's important to understand that there are many precautions that we can take to provide a healthy environment for ourselves and our birds. And that sometimes, despite the very best that we do for our birds, that we may lose a feathered friend.