Support our Non-Feathered "Flock"
WANTED: TGF's 4-LEGGED HAPPY TRAILS FUND
With a flock of nearly 1000 birds under our wing, we hope TGF's friends will remember the woolly, hairy and furry critters that count on us for their care.  Sponsorship for any one of these sanctuary residents is a gift with a real reward to share for the holidays and all year long. Each of these pasture retirees has special needs, and will spend the remainder of his/her days in safety at The Gabriel Foundation's Elizabeth location. With nearly 36 acres of hilly, high plains pasture, there is plenty space for them to roam.
DONKEYS: Flora, Flossie and Jack
In TGF's care since 2002, Jack is a Spotted Ass, while Flora and daughter Flossie have been a part of Jack's herd since their home before TGF. We don't know their actual ages, but our veterinarian guesses they're between 18-20 years old. These donkeys were abandoned close to TGF's previous location when they foundered and were in need of veterinary care. Generally easy keepers, these three require regular hoof trims, semi-annual veterinary care, pasture grass and grass hay. Some TLC goes a long way with them, and you're in for a big donkey kiss if you visit them with a carrot, apple or molasses muffin in hand.
MARES: Outlaw, Lola, Mamie, Zelda, Yummy and Sadie
OUTLAW, the bay Thoroughbred mare,  arrived in 2008 with a broken pastern when her caregivers couldn't afford veterinary care. By then it was too late to fix the break, but she was truly in need of help. Starving due to old age and teeth problems, regular dental care and extra nutrition helped her to put on weight. Supplemental feed, regular farrier and veterinary visits, and the safety of other mares have helped this gentle beauty to age in safety.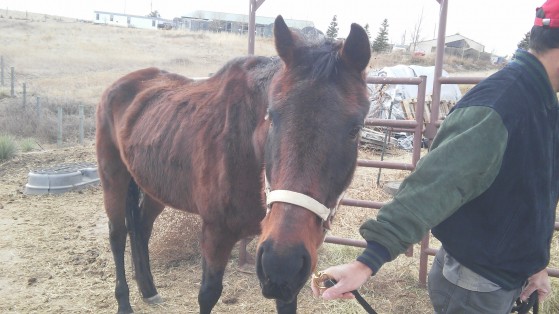 LOLA,  the quarter horse sorrel mare arrived at TGF in 2009 from a City of Aurora, CO animal control intake. Lola and her little filly were seized due to extreme physical abuse. The filly had a home lined up, but no one wanted the broken down old brood mare whose face had been bashed in and had lost trust in most people. When asked to provide care for her, we agreed. Lola keeps her distance from most folks that directly approach her, while she is an established member of her herd.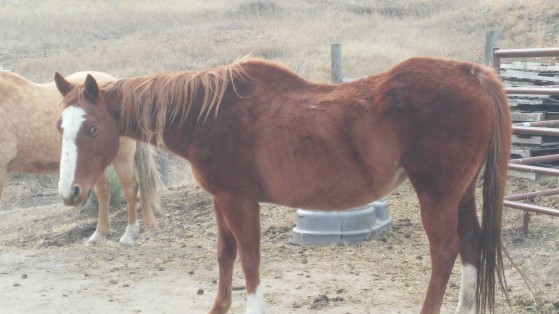 ZELDA and MAMIE, paint and palomino mares, came to TGF in April 2014, from the HSUS Emergency Field Services rescue and intake of an Arkansas puppy mill, horse and parrot hell whose birds were also seized and transferred to TGF. We don't know their ages but know they were used to breed, and breed and breed. The younger horses, mainly Cremellos, were placed for adoption, but these two older gals needed a place for the remainder of their lives. The HSUS transported them to Elizabeth, and since they've been here, each has gained about 300# and barely resemble their before pictures.
PAINT MARES: Yummy, 25 y.o. bay paint and Sadie, 10 y.o. black paint pony have become best friends since their arrival in 2009 and 2012. Each arrived with another buddy who has crossed over to the Rainbow Bridge. Both of these mares need to be kept in dry pasture due to founder, a serious foot and hoof disease that causes extreme lameness. They need a specially formulated diet that keeps their weight maintained because free pasture grass would be a death sentence to both. Both gals require special hoof care and shoes every 6 weeks to keep them sound. They are curious about every vehicle that enters our property and will eagerly venture over to a visitor to see if treats are available. Big licks and throaty neighs greet their fan club.
LLAMAS and ALPACAS:
KIKI and PELIKE, the two brown male llamas in the large pasture, have been with TGF since 2002 when their herd was disbanded. These two were crias (babies) at a ranch near our former Basalt, CO location, and we watched them from birth to relinquishment. ESPRESSO, the nearly black male, came to us in Elizabeth when his owners, former volunteers, moved to Alaska. Fortunately, all these fellas get along. The fleece of these 3 is mediocre which is why they have little value to most folks in the fiber arts market. Our alpaca boys share the pasture with paint mares Yummy and Sadie because they are proven escape artists in the large pasture. Alpaca round ups are stressful on humans and animals, while we know these two enjoy the arriving and departing visitors. SILVINO'S SHADOW, born 2001 and LIBERTY'S STRIKER, born 2004  are these boys' fancy names. Both were boarding then abandoned at a nearby alpaca breeding ranch due to their so-so fiber, TGF was asked to accept them for sanctuary in 2010.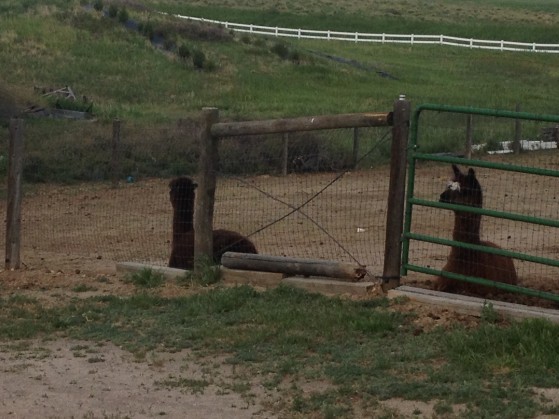 It costs TGF about $3500 year to care for each one of these animals. We need your help to provide for their sanctuary. With twenty years of dedicated animal and parrot welfare under our belts, your gift makes the difference in care from good to great. We've committed to each of our residents for the remainder of their lives. We invite you to please help us honor them with your year end gift.
To make your end of year gift, please visit http://thegabrielfoundation.org/donate/.
Please specify which animal you wish to support, otherwise your gift will be a part of TGF's  4-Legged Happy Trails Fund. From all of the critters at TGF, happy trails ya'll.