Owning a Cockatoo: Mango's Story

Adopting a bird, any bird, but especially a gregarious, large and active Moluccan cockatoo like Mango takes a lot of consideration and planning. And it takes considerable care and attention to keep daily enrichment activities ongoing and creative.
We were happy a few years ago when Mango was adopted to a family in NJ where he was eagerly welcomed. They cared for Mango, were entertained by him, enjoyed how beautiful and interactive he could be, and his intelligent and outgoing personality. Mango seemed to settle in quickly. But the behaviors that are a part of a cockatoo's normal vocalizations and activity soon became a challenge for the humans in the family. Just a few months later Mango was returned to TGF because the family determined that he made too much noise. For them, daily living with a robust, social cockatoo was an enticing opportunity that soon lost its appeal. The task of keeping Mango's daily routine enriched, active, social and physically challenged involved more than hugging and petting, watching TV, sitting on a play stand or on the sofa. Frustrated, disappointed and unhappy with Mango's noise level, Mango returned to TGF.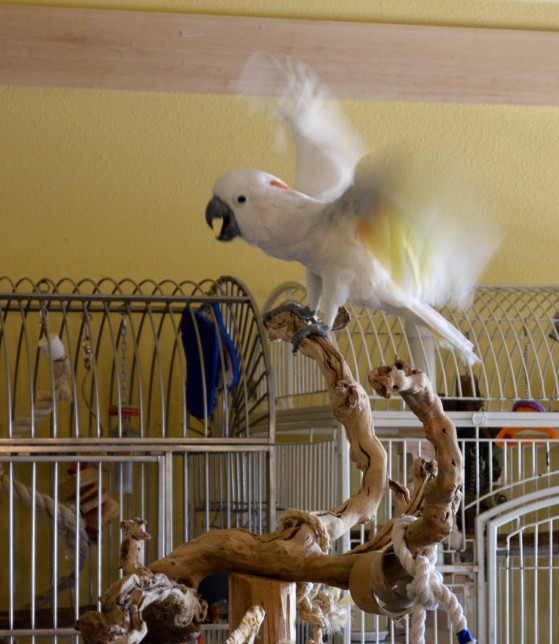 Taking on the care and commitment of a large companion parrot is a big responsibility for us humans. We make their world while they are in our care. TGF provides ample opportunity for adopters, volunteers and visitors to experience first-hand the importance of setting up the bird's environment for success. The rest of Mango's story is that he did find a home several months after his return. Best of all – he has a small flock of cockatoos in his life and gets to spend time whooping and hollering in the bird room or in the outdoor aviary that his new family built. Even better: no close neighbors to complain.