The Night Before Christmas…..at The Gabriel Foundation
Words adapted by Kelly McKee – Haynes
 '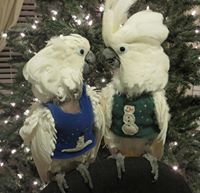 Twas the night before Christmas all through The Foundation
Every creature was stirring via flight, feet or defecation!
The toys were all hung in the cages with care; the African Greys counting to make sure it was fair.
The husbandry staff was listening to Edgar's loud crooning…
Our new bookkeeper was snoozing!
Julie in her office, all torn up from tiling, was wracking her brain to print the 990 IRS filing.
When out in the field there arose such a clatter, all Julie could think was, "NOW what's the matter?"
She flew to the window that still had no sash, and thought, "Oh I hope Waste Management picked up the trash!"
As the moon was reflecting on the corners of flights,
Julie had an idea to add to the website…(but back to the story)
But what to her wondering eyes should appear? A vision of people with ideas to fund the next year. With the organization lead by a feisty kind elf, who thought of birds and people, but not herself,
She was thinking about the new year when she realized,
We'll flourish next year if we just strategize!
"Now Brenda, now Miguel, now Hector and Elder!  On Whitney, Kris, Amanda and Eric!
"On Janessa, on Kelly, on Jessica & Dawn!  On both our Melissas…..oh, I need a diagram!"
As dry leaves before wild tornadoes do fly,
When we meet with an obstacle – we'll just modify!
So into the fray of running a nonprofit for birds she flew
With special knowledge very few of us knew!
And then in a twinkling we heard from the flights,
"I think rearranging will lessen the fights!"
As the parrots were watching, their heads turned around….
Who should come running but more staff in their nightgowns!
While they were dressed in pajamas they understood what was at stake.
They each had an item Julie showed them how to make.
Sergio was grumbling, (he thought to himself) until he realized his iPod was broadcasting to all other elves!
Julie's eyes how they twinkled, her dimples, how merry!  Her cheeks were like roses,
But her nose very wary.  Her ability to smell any inappropriate scents, protected the birds from dangerous contents.
Julie has curly hair and the kindest of eyes, but mistreat a parrot….you'd better run for your lives!
She was caring and driven, her heart bigger than Texas.  She just wanted to help birds not deal with the messes!
She pushed and she pushed 'til we all had a list that if it hadn't come from her, things would have been missed!
She sprang in her sleigh, to her team gave a "thumbs up"!
We almost collapsed from the stuff to clean up!
But we heard her exclaim, as we were all exhausted and pale,
"Don't worry about tomorrow's list – I'll send it by email!"
Become a Secret Santa and show that you care. Please make your 2014 end of year donation now. https://thegabrielfoundation.org/donate/donate/