Parrot Conservation
Following are some parrot conservation efforts across the world that you may find of interest.
The Puerto Rican Parrot Project
Continuing our dedication to conservation efforts around the world, The Gabriel Foundation sponsored a lecture from Jafet Velez-Valetin, the Aviary Operations Coordinator for the Puerto Rican Parrot Recovery Program. The Puerto Rican parrot is one of the ten most endangered birds in the world. There are said to be only 34 left in the wild and they are all restricted to the Caribbean National Forest. Jafet Velez-Valetin leads the captive breeding program. Thanks to support from our donors, TGF committed $2,845 toward the Puerto Rican Parrot Recovery Program.
Learn more about the Puerto Rican Parrot Recovery Program.
---
Last Flight of the Scarlet Macaw
Great Opportunity! Buy The Last Flight of the Scarlet Macaw: One Woman's Fight to Save the World's Most Beautiful Bird by Bruce Barcott on amazon.com and proceeds benefit The Gabriel Foundation!
Read the New York Times Book Review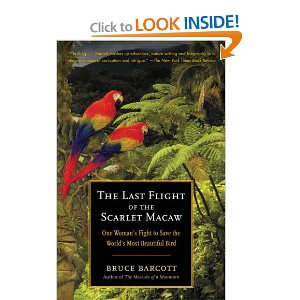 ---
Unique Migratory Shorebird Is One of World's Most Critically Endangered Species
The enigmatic Spoon-billed Sandpiper migrates from remote northern Russia to Southeast Asia, where forces such as habitat loss and subsistence hunting are driving it to the brink. The global population is estimated to be as few as 100 breeding pairs, and recently the species has declined at a precipitous rate of approximately one quarter of the adult population per year. Unless this rate is stemmed, the Spoon-billed Sandpiper will likely go extinct in less than a decade.
Learn more about the Spoon-billed Sandpiper.
---
New Zealand precinct at Auckland Zoo
New Zealand's broad range spread of landscapes is now replicated at Te Wao Nui, the New Zealand precinct at Auckland Zoo. Learn more on how the Te Wao Nui is accommodating the New Zealand born animals.
---
The Ara Project
Founded in 1989, the Ara Project (ARA) is a Costa Rican licensed zoological park and non-profit organization dedicated to the conservation of the two native macaw species of Costa Rica: the critically endangered Great Green or Buffon's Macaw (Ara ambiguus) and the Scarlet Macaw (Ara macao). Learn more about The Ara Project.
---
Wild Bird Trust
The Wild Bird Trust aims to keep birds safe in the wild with a combination of research and action. Learn more about the Wild Bird Trust.