Other Ways to Help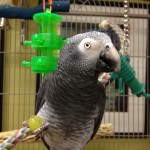 We accept in-kind donations of bird supplies such as cages and toys as well as newspapers, phone books, and even cars & trucks!
Items can be dropped off during business hours or picked up depending on size.
Click here if you have a question on making an in-kind donation.
---
Help the Birds Every Time You Search or Shop Online
Now you can help the birds of TGF every time you go online. Whether you are navigating the web or shopping online with your favorite retailers, this is such a great way to support a worthy cause without spending any money, and takes only a few seconds of your time.
The Gabriel Foundation has partnered with several online search and shopping sites who will donate a percentage of their profits to us – and all you have to do is sign up and go about your business as usual! Have a look, and start helping the birds now!
Shop Online through Adopt A Shelter!
The Gabriel Foundation is now listed on AdoptAShelter.com. Every time you and all of your fellow supporters shop using AdoptAShelter.com you are financially supporting The Gabriel Foundation. Remember, it's easy to use (no login or password needed), it's FREE and every purchase helps animals…so tell every animal lover you know!
GoodSearch.com & GoodShop.com
GoodSearch.com is a search engine that allows you to help TGF every time you search for anything on the internet – and the best part – it costs you NOTHING!
Plus, GoodSearch.com is also home to GoodShop – where they partner with merchants who also donate a portion of their proceeds to your chosen charity when you shop with them via the GoodShop website!
It's as easy as that! Just click here to visit the GoodSearch website, designate The Gabriel Foundation as your charity, and help the birds every time you go online!
iGive.com
Join iGive and a percentage of your purchases from over 680 retailers will go to The Gabriel Foundation. All you need to do is go to iGive.com to sign up, choose TGF as your cause and then use their site to navigate to all of your online stores.
To choose TGF as your cause on the iGive website, enter:
State: Colorado
Cause Type: Animals
Cause: The Gabriel Foundation (currently we are located on page 5)
iBakesale.com
More merchants, same deal! Sign up with iBakesale.com, choose The Gabriel Foundation as your cause, and shop via their site with hundreds more online merchants. Voila, without spending an extra dime you will be helping the parrots and programs of TGF!
Donate your Car!
Wondering what to do with your used car or truck? Donating your old vehicle to The Gabriel Foundation is convenient, easy, and may qualify you for a tax deduction. And best of all, your donation of a used car or truck will make a big difference in supporting The Gabriel Foundation.
Why not donate your vehicle today?  All you need to do is to complete our simple online donation form  or call 1-866-628-2277 and we'll take care of the rest. We will pick up your vehicle, arrange to have your donation towed, and provide you with a tax-deductible receipt, all at no charge to you. Call 1-866-628-2277 or online at https://www.vehiclesforcharity.org/Donate/GAF.html.
Questions? Check out the Frequently Asked Questions Document.