Our Hyacinth Macaw Adoption Policy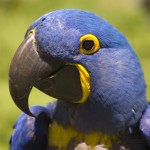 We regularly receive calls, emails and letters from people all around the U.S. and Europe who offer to take one of those "big blue birds" off of our hands. Many people state that they don't care if it is disabled, a feather picker, male or female, or even is old! They'd just be happy to have one. For many people, the exquisitely beautiful and striking Hyacinth macaw is their dream bird. They have heard it's a gentle giant, or a goofy, big clown, or that it is a really expensive status symbol; so many reasons and many of them inaccurate.
The Hyacinth macaw is an exceptionally large macaw and has a specialized high fat diet, and has enormous enrichment and exercise needs to stay happy, healthy and out of trouble. Providing the appropriate housing needs for this bird can be costly due to the destructive dismantling power of the massive beak. Hyacinths can easily intimidate a fearful human, and they can bully and even severely injure or kill a smaller parrot in a couple of seconds if left unsupervised or unattended for even a moment. True that this can happen with other species, but it is highly possible with a Hyacinth. They are among the royalty of the parrot world and they know it.
Our Hyacinths enjoy the space of a huge flight structures, and the benefits of living in a couple small flocks. They are wonderful educators and thrill visitors that are amazed by their brilliance, size, agility and raucous vocalizations. We have made the decision that if one of our members or friends wishes to acquire a Hyacinth that we will direct them to a variety of sources so that they may find the bird that is the one for them. We will provide nutritional, husbandry, housing and behavioral guidance so that the human/bird relationship has a chance to be a healthy, strong one, no matter what age the Hyacinth is at acquisition, provided that it is a weaned bird at purchase. We make no money from any bird sale as a result of a referral, although we are duly grateful when we receive a donation in honor of the bird's new family. Our interest is to help make certain that the bird stays in the home, through tough and good times. We want to know that the individual, breeder or pet store will offer full support to that customer and work with them long term if needed for the welfare of that bird.
Our flock of 12  Hyacinths has birds from differing origins: Goober was a purchase for and by Julie Murad after Gabriel's death; 9 are with us in sanctuary, 1 was gifted to the Foundation and 1 was a cruelty intake. So, thank you for inquiring as to their availability; you now know why we say, "None available."
When a bird enters TGF's care, the person placing his/her bird has options about what they want for their bird's future. Lifetime care is an option. Every Hyacinth that is with us has an owner who made that decision for their bird. If that is the decision, then TGF honors it. Birds enter our lifetime care program mainly for 2 reasons: the relinquisher's wishes and support for their bird; TGF birds who are not widely adoptable and for whom a life with a bird flock is in the bird's best interest, or the bird's species is a flagship for its IUCN status.
There are alternatives for the public other than adoption to obtain or purchase a Hyacinth macaw, Blue throated macaw, Red fronted macaw, Red bellied macaw, Great green macaw, Golden conure, Blue headed macaw, Major Mitchell's (Leadbetter's), Blue eyed, Palm and other black cockatoos, Vasa parrot, Rüppell's, and the Brown necked Cape parrot poicephalus species along with other species or color mutations that have a coveted cachet.
And sometimes it is about the money – there are people want to have a particular bird species at a highly discounted price. For The Gabriel Foundation, the cost of care of any of the above species is about the same for others of the same size or genus. Some exceptions are the type of housing, specialized diet and the ability to flock and spend time in outdoor aviaries with conspecifics.
*At this time, The Gabriel Foundation does not adopt out several other species, including Red fronted macaws, Blue throated macaws, or Golden conures. Each of these birds in residence with us was placed into our lifetime sanctuary care program.